They say you haven't made it big until there's a street sign named after you. If you drive around Western Pennsylvania, you'll find streets like Mazeroski Way and Tony Dorsett Drive that help to immortalize the local legends they're named after. Now, you can add Steamfitters Lane to that list! Next time you take the drive out to Harmony, you will pass by our brand-new street signs letting you know that you're approaching our state-of-the-art technology center.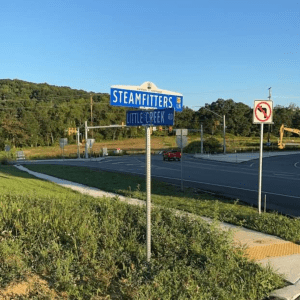 The addition of this sign symbolizes that even after 110 years, we continue to increase our footprint in the region. It further solidifies Local 449 as a staple of the community in which we reside. 
So, if you don't know who we are by now, plug Steamfitters Lane into your GPS and come find out what makes our local one of the best in the world.