Labor Day Monday means many things to Americans today. It signals the start of the school year and the return of Fall weather, but to tradesmen and their families, it means the recognition and celebration of the hard work they do to keep America running. From infrastructure like roads and electric lines to the factories and pipework that created our country, a tradesman's work has built modern life as we know it.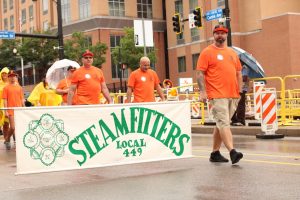 In 1894, Congress ordered that the first Monday in September should be a holiday to honor the laborers who contribute so much to the nation and its citizens. The celebration we now recognize calls for parades and parties to exhibit our labor force's spirit, and share our appreciation with our fellow citizens.
Local 449 is proud to represent our union members in this year's Labor Day parades in both Pittsburgh and Erie. One of America's oldest parades and the country's largest, the Pittsburgh parade will travel from Centre Avenue to Grant Street before marching down the Boulevard of the Allies and ending at the Steelworkers Building. The Erie route covers the half mile from 10th and State Streets to Perry Square.
We hope to see our union brothers and sisters at the parades this Monday from 10-noon!